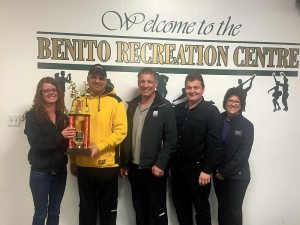 Submitted by:
Shirley Yaschyshyn |
The Benito and District Recreation Centre was busy from February 14 through 19, 2017 where 27 curling teams took part in the 10th Annual Open Bonspiel

Pictured above: Kim Pierce from Benito Premium Meats presents the First event trophy to skip Mark Maga, third Glen Maga, second Robert Vessey and lead Andrea Maga.
Participants motored to Benito for the bonspiel from Swan River, Minitonas, Regina, Brandon, Arran, Pelly, and Norquay to name a few.
Competition began on Tuesday, February 14th with lots of close games or not so close games; there was plenty of what "Ifs" discussed over various deep fried goodies and adult beverages in the lounge. On Saturday participants were treated to a delicious banquet meal catered by Kyla Kluke followed by more competition. Those not competing on Saturday night were provided entertainment in the lounge by Dianne Prekaski and various others as the evening went on.
Sunday brought the close to the competitions with the Benito Premium Meats First event going to the Mark Maga rink, second was the Ken Newel rink, taking third was the John Knutson rink and fourth in the first was the Bob Lumley rink.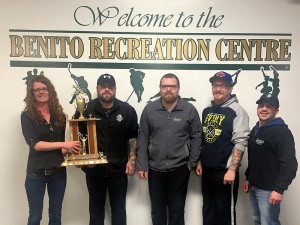 In the Swan Valley Credit Union Second event, Jeremy Hrycenko rink took first place with "Danny" Dale Jersak rink taking second, Heath Morin rink took third and taking forth in the second event was Dave Panagabko.

Pictured above: Kim Pierce presented the Swan Valley Credit Union Second event trophy to skip Jeremy Hrycenko, third Ryan Hrycenko, second Evan Hrycenko and lead Frazer Will.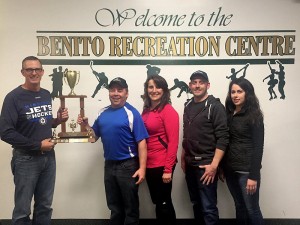 In the W. F. Schneider and Son Third event, first went to the Kelly Tibble rink with Kalinowsky Farms taking second place, Scott Schneider's rink taking third and the Jason Mydynski rink taking forth.

Pictured above: Scott Schneider presents the W. F. Schneider and Son Third event trophy to skip Kelly Tibble, third Sandra Tibble, second Blair Goodman and lead Christina Goodman.

In the J.A. Lyons Memorial fourth event the Rick Kinaschuk rink took first, the Zach Newell rink came in second with the Bill Tullis rink taking third and Murray Kalechyn coming in fourth.

Pictured above: Jody Lyons presents the J.A. Lyons Memorial Fourth event trophy to skip Rick Kinaschuk, third William Woytkiw, second Tom Lyons and lead Shirley Yaschyshyn.
The Benito and District Recreation Centre would like to thank all of teams that participated in the bonspiel, everyone that helped out in the concession, in the kitchen, in the lounge, the ice makers, and draw master Ken Newell for making this weekend another successful event for the community.