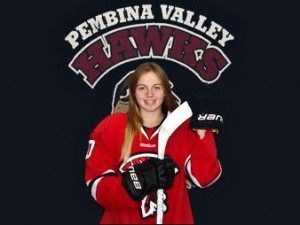 ValleyBiz Story |
For many kids hockey is more than just a passtime – it is a passion pursued with dedication and hard work.
For one Swan Valley youth, that commitment has paid off with an spot to represent Manitoba nationally.
Photo Source: Pembina Valley Hawks
Kaila Powell has been selected to participate on Team Manitoba in the upcoming 2017 National Aboriginal Hockey Championship (NAHC). "It has been a pretty big feat to make this team out of Manitoba." said Tanya Powell (Kaila's mom), adding "She's pretty excited."
The NAHC provides an annual forum for elite midget age male and female Aboriginal hockey players from across Canada to compete with one another, as well as offering an opportunity to celebrate cultural unity and pride. The Championships are delivered in an all-star format with top players selected to compete on behalf of their province or territory. Taking place in Cowichan Valley of BC from April 30 – May 6, 2017 the NACH will include approximately 450 players, coaches, and team staff and features teams from British Columbia, Alberta, Saskatchewan, Manitoba, Ontario, Eastern Door and the North (Quebec), Atlantic, and the North.
For the past 2 semesters, Kaila has been attending school in Morden, MB in order to pursue opportunities in hockey not available at home. Balancing her active hockey schedule with a full academic course load, the busy 15 year old remains committed to her studies and continues to do well in school. She is hoping to return to the Valley after hockey season to complete the school year at home.
Kaila plays with the Pembina Valley Hawks AAA Midget team who will also be participating in the 2017 Esso Cup, Canada's national female midget championship. Pembina Valley opens the 2017 Esso Cup against the West Region champions on April 23, 2017.
Speaking of her daughter's accomplishments, Powell remarked "She is going to be part of two of the most highly recognized hockey things in Canada this April and May. It will be very exciting."