Submitted by:
Joyce Trevellyan |
The Royal Purple Elks hosted a Valentine luncheon at the Elks Hall on February 14, 2017. About 100 people enjoyed delicious home made Turkey noodle and Borsht soup with egg, ham and turkey salad buns.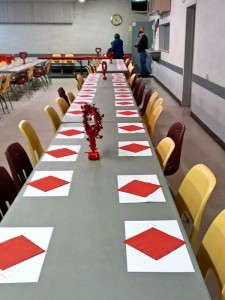 Click any picture for a larger version.
There was a large assortment of cakes and cookies with many decorated in a valentine theme.
Thank you to everyone who supported us, one step closer to our goal of a Bocce Ball court.