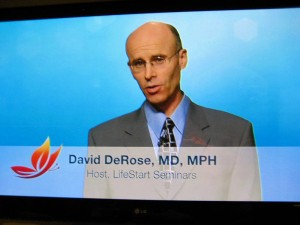 Submitted by:
David Ogram |
On Monday, February 13, 2017 two Information Meetings were held in connection with up-coming Health Improvement Program. A total of 15 people attended the Information Meetings.

Click any picture for a larger version.
The Health Improvement Program sessions will be held every Monday evening at 7:00 pm, starting February 20, for the next six weeks in the Second Floor Board Room at the Swan Valley Health Centre. Each evening there will be two 30 minute video presentations by Dr. David DeRose, MD, MPH, followed by a discussion/question and answer period. Food samples along with recipes will be provided.
On Monday, February 20, 2017 the presentations will be on using lifestyle to prevent and often reverse heart disease and how to use lifestyle to maximize mental performance. Anyone wishing to learn more about the Health Improvement Program is welcome to drop in for next Monday's session.
Future sessions will deal with health problems such as high blood pressure, diabetes, arthritis, osteoporosis, cancer, dementia, lung function, weight control, addictions and colds and flus.