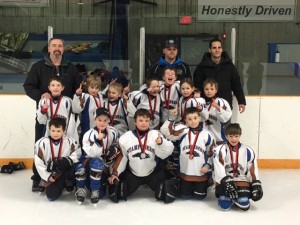 Submitted by:
Treena Rooks |
On Saturday February 11, 2017 the Swan Valley Broncos took part in the Kamsack Novice Flyers 2017 Invitational Tournament. The Broncos kicked things off bright and early at 9am against the home team Kamsack.
Pictured above – left to right:
Will Moncrief, Jordan Rooks, Michael Gosselin, Carter Moncrief, Easten Eggie, Ben Poole, Kash Gosselin, Payton Thompson, Allison Playford, Dylan Anderson, Luke Harness, Caleb Rooks, Scott Tibbett, Kaiden Bell, and Jacob Turton.
The teams went back and forth the entire game, but in the end, even with a pulled goalie to try and tie things up, Kamsack fell short. The game ended with a 6-5 score for the Broncos.
The next game would be against Canora at 1:30. Even though Canora gave it their all, Bronocs still held their own. The game ended with a win for the Broncos with a score of 9-1.
After the game the kids only had 30 minutes to take a quick break before their next game against The Pas. When the game started it was the Bronocs third game of the day and The Pas's second. It's safe to say the kids were very wore down but they dug deep and it all paid off. With a score of 3-0 for the Pas going into the third period, the Broncos got their second wind. With only 7 minutes left of the game the Bronocs tied it up with a score of 3-3 that would earn their spot in the A side finals.
On Sunday February 12, 2017 the Broncos would face The Pas once again at 12pm. After a lot of going back and forth the Broncos pulled ahead to win the A side finals with a score of 6-4.