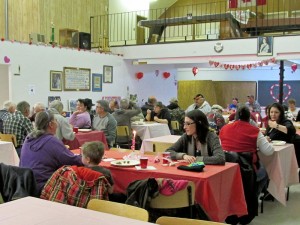 Submitted by:
Debbie Soloway:
Pine River Community Centre was the place to be for a delicious Valentine's dinner on February 11, 2017.
Close to ninety hungry guests were in attendance.

Click any picture for a larger version.
Each guest received a Valentine treat bag followed by a scrumptious meal of spaghetti and meatballs smothered in tasty red sauce with salad and garlic bread on the side.
This dinner was accompanied by red juice refreshments or tea and coffee, and a mouth watering dessert to complete this savory meal. The dessert table looked like a fine art piece with the flowing shades of pink and red. The centre was decorated beautifully in the Valentine theme with handmade flowers, lovely center pieces and red heart shaped balloons.
They had donated silent action prizes and a special Valentine draw, congratulations to all the winners.
The Pine River Lions Club president Lion Garry Urbanowski made a special presentation of $200.00 on behalf of their club to the Community Centre. Thank you for the much appreciated generosity.
The evening proceeded with some guests playing cribbage, card and board games while others enjoyed visiting and catching up with friends. We wish everyone a happy Valentine's Day.