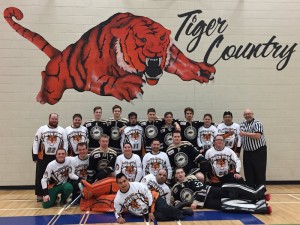 Submitted by:
Shirley Todosichuk |
The Swan Valley Tiger Fire hosted the Swan Valley Stampeders to a Floor hockey game on Sunday, Feb 5, 2017.
All of the athletes had a great time playing the game!
Click any picture for a larger version.
Pictured above:
Front row l to r – Andrew Brass, Jarret Gingras, Keaton Jameson,
middle row l to r John Schabert, Brennan Sauder, Cody Ellingson, Angie Ferland, Jeremy Stephen, Brett Evans, Kipp Terry,
back row l to r -Kendall Leslie, Kolton Leslie, Dane Hirst, Connor Navrot, Ricky Zimmer, Brian Harris, Bodey Vaeth, Noah Basarab, Allison Landels, Joe Cook and fabulous referee Gary Wowchuk.
Not everyday do the athletes get to challenge their hockey heroes. Quote of the game goes to Andrew Brass "huge Stampeder fan who cheers, drumming his hands behind the Stampeder bench each game" who says to Brett Evans at the face off circle "You're going down pretty boy"! Shot of the game goes to Joe Cook with the winning goal in the shootout where Mama keeps the cookie jar beating a surprised Keaton Jameson in net. Stampeder Equipment Manager Ricky Zimmer, Tiger Fire athlete, had a great time battling against the players.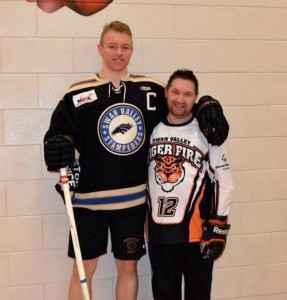 Jeremy Stephen has thoroughly enjoyed battling local player Captain Cody Ellingson in Floor hockey games over the years. He will brag about this win for the next year!
The glory and bragging rights belong to the Swan Valley Tiger Fire on their 10-9 win in a shootout until next years rematch!
Thank you Stampeder players! You guys made memories today!!