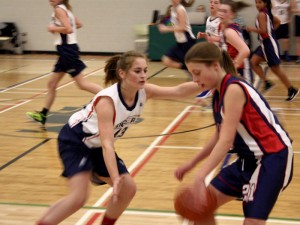 Submitted by:
Lise Fraser |
JV Girls Basketball team travelled to Dauphin on February 3 & 4, 2017 to play in the Dauphin Invitational. The Tigers played Minnedosa Collegiate on Friday afternoon and won convincingly with a score of 56-18.
Pictured above: Brynlee Spencer steals the ball from a Minnedosa player.
Click any picture for a larger version.
Alison Rowe scored 14 points, Adria Bateman 11 points and Erica Sembaluk-Hart, Lauren Klatt and Sydney Fleming with 6 points apiece. Decorbea Fleury and Sabrina Kopecky led the team defensively with 3 steals each. The Tigers played Dauphin Clippers in the semi-final game Friday evening. The score was close through the first half and in the third quarter Dauphin pulled ahead by a basket. The Tigers surged back into the lead with a three pointer from Ireland Staples followed by a steal on the next inbound play and the Tigers never looked back.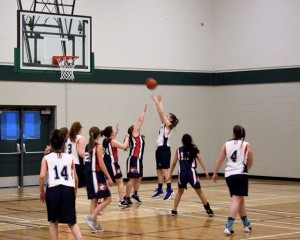 Final score of the game was 40-24 in favour of the Tigers. Leading scorers for the Dauphin game were Brenna Schure and Sabrina Kopecky with 9 points each, Ireland Staples with 7 points. Seanna Stinson had 6 rebounds and 4 points.
Pictured right: Lauren Klatt shoots over top of a Minnedosa player.
The Tigers played Calvin Christian School, a team from Winnipeg in the Championship Game. The Tigers were behind by 14 points at half time. Throughout the third the Tigers traded baskets with the Eagles, then in the fourth quarter the Tigers pressed and outscored the Eagles by 12 to 2 but were not able to make up the deficit. The final score of the game was 38-37 in favour of Calvin Christian Eagles.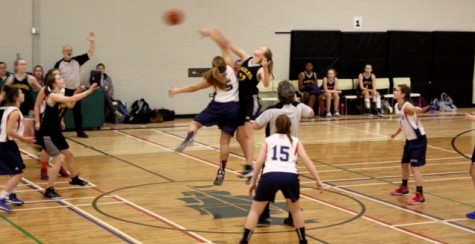 Pictured above: Brenna Schure in the opening tip-off against Calvin Christian Eagles.
Lauren Klatt was the offensive player of the game with 11 points, 6 rebounds. Klatt was fouled repeatedly throughout the game by the Eagles as they were not able to stop her from shooting. Brenna Schure and Sabrina Kopecky added 6 points apiece. Decorbea Fleury and Ireland Staples rebounded, created turnovers with their aggressive press. The season record for the JV Girls Basketball team is 11 wins, 1 loss.
The Tigers next action is a home game against Yorkton Regional School on February 8 at 4:30 p.m.