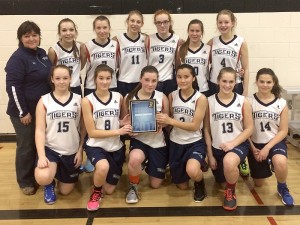 Submitted by:
Lise Fraser |
The JV Girls Basketball Team travelled to Souris in January 20 and 21, 2017 to take part in the Sabres Invitational Basketball Tournament.

Pictured above (click for a larger version):
Back row: coach. Lise Fraser, Josie Black, Lauren Klatt, Caitlyn Stewart,
Adria Bateman, Ireland Staples, Seanna Stinson
Front row: Erica Semblack-Hart, Sydney Fleming, Alison Rowe,
Decorbea Fleury, Brynlee Spencer, Sabrina Kopecky

First game of the tournament for the Tigers was against Crocus Regional School, a AAAA school. The Tigers won that game with a score of 66-25.
Leading scorer for the Tigers was Lauren Klatt with 14 points. Lauren shot 100% from the free throw line and 85% from the field. Alison Rowe and Adria Bateman contributed 9 pts. each. The defensive players of the game were Sydney Fleming and Decorbea Fleury. Fleming contributed 6 pts. for offence and blocked three shots, while Fleury scored five points and stole the ball eight times. The Tigers used a full court man to man press for the first two quarters against Crocus which prevented them from developing any offence.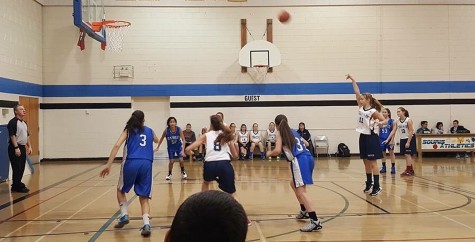 Pictured above: Caitlyn Stewart makes her foul shot in the finals against Souris.
Saturday morning at 10:00, the Tigers played Neelin High School, an inter-zone rival for first place in their pool.
The game was close in the beginning as the two teams traded baskets but when the Tigers applied pressure in their man to man press they quickly pulled ahead. Sabrina Kopecky, Erica Hart-Semblack, Ireland Staples, Rowe and Fleury forced Neelin into turnovers and time violations.
Defensive players of the game were Brynlee Spencer, Ireland Staples and Sydney Fleming. Spencer had two rebounds, two steals while contributing 5 pts for the offence.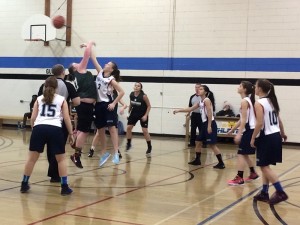 Staples rebounded and blocked shots. Fleming broke up plays in the back court, stealing the ball which resulted in fast breaks for the Tigers. Leading scorers for the Tigers: Lauren Klatt with 12 pts, three rebounds and a steal. Kopecky contributed 9 pts and Rowe added 8 pts.
Pictured above: Lauren Klatt wins the tip off against Neelin High School.
The Tigers won 56-26 and advanced to the finals.
Swan Valley Tigers faced the home team, Souris Sabres in the Championship Game The Tigers used an aggressive defensive trap to create numerous turnovers. Rowe, Decorbea Fleury, Sabrina Kopecky stole the ball repeatedly in the first quarter resulting in a 18-0 lead for the Tigers. The Tigers eased pressure in the back court but continued to play strong defence against Souris utilizing a zone. Josie Black, Fleming, Klatt, and Staples were strong defensively in the front court, preventing Souris from scoring.
Leading scorers for the Tigers: Adria Bateman, with 10 pts. shooting 83% from the field, Caitlyn Stewart with 9 pts, Seanna Stinson added 8 pts.
Decorbea Fleury and Alison Rowe were named to the All Star team for the tournament.
Next action for the JV Girls Tigers is the Gilbert Plains Tournament on January 28th.