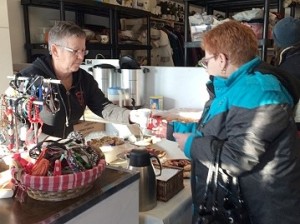 Submitted by:
Bethany Matejka |
The Grand Opening of the Thrift Shop in Birch River was a great success! Despite the frigid weather, lots of new and returning customers came out to enjoy the coffee and yummy snacks as well as finding plenty of treasures to take home.
Thank you to all the volunteers who helped make the Grand Opening happen and who keep the Thrift Shop going.
The Thrift Shop is an outreach of and fundraiser for Steeprock Bay Bible Camp. There is clothing, household goods, and a little bit of everything. All are welcome to come and shop! The Thrift Shop is open on Thursdays, 10-12 and 1-5.