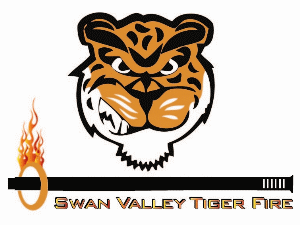 Submitted by:
Shirley Todosichuk |
Swan Valley Tiger Fire
Floor Hockey Team
is hosting its
3rd Annual
Regional Floor Hockey Tournament
January 13 & 14, 2017
SVRSS Gym, Swan River
Fri. January 13, 2017 at 7:30 pm
(Tiger Fire VS Wpg Blue Devils)
Sat. January 14, 2017
Opening Ceremonies at 9:00 am.
The first game of the day starts at 9:15 am.
The Parkland Region is very excited to have the newly formed Riding Mountain Rebels of the Winnipegosis/Dauphin area join the Parkland League. We welcome them, along with the Winnipeg Blue Devils and the Brandon Wheat City Wings to our 3rd Annual Floor Hockey Tournament.
Come out and cheer on our Tiger Fire Floor Hockey Team and show the visiting teams our Valley Pride!