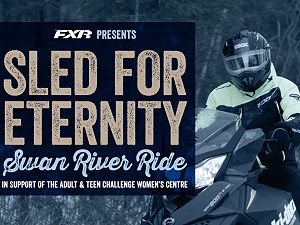 Submitted by:
Kim Lowes |
FXR Sled for Eternity
Snowmobile Ride
February 11, 2017
Swan Valley Historical
Museum Swan River, MB
Registration starts 8:30 am
$50 (Passenger $35)
2016-17 Snopass required
Join us for the FXR Sled for Eternity snowmobile ride in support of the Adult & Teen Challenge Brandon women's centre. This year's ride starts in Swan River, Manitoba and circles through the beautiful area. Registration includes ride participation, meals, a chance at some great checkpoint draw prizes and awesome fundraising prizes!
Register and start fundraising early for your chance to win the grand prize of a 2016 Ski Doo Renegade Backcountry!! Sponsored by River Valley Powersports and FXR.
Those who register ONLINE before January 30th will be entered into a draw for a new FXR snowmobile suit!!
If you have any questions please call 204-949-9484 or email events@teenchallenge.tc.