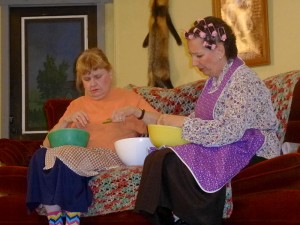 Submitted by:
Lloyd Gilchrist |
The Veterans Community Hall was the location this past weekend for a very successful production of the comedy, "Virgil and the City Slickers" by the Valley Stage Players.

Click any pictures for a larger version.
The production opened Friday night on November 25, 2016 to an enthusiastic audience who responded immediately and warmly with their laughter and applause. Saturday night began with a delicious dinner served by Y Not Johnny's catering followed by the play presentation. A large Sunday afternoon matinee audience enjoyed the final performance for this year's production. The Friday and Sunday audiences were treated to a delcious intermission dessert provided by Verneece Eggie.
The Valley Stage Players is a local theatre group dedicated to providing the theatre experience to the valley residents. We offer anyone interested to become a part of our group whether it's an onstage presences or behind the scenes. This year an enthusiastic cast of fourteen, comprised of both seasoned and new actors, spend the past two months in rehearsals under the direction of Denis Beaudoin.