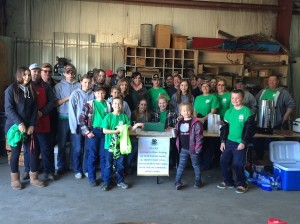 Submitted by:
Austen Anderson |
It was a beautiful day on November 10th when the Minitonas 4-H Beef Club gathered to host a fundraising BBQ for the Mangin family. Joe is a leader in our club and Bailey and Nolan are members.
Click picture for a larger version.

Over 800 burgers were sold between 11:00 AM and 2:00 PM. Many businesses and schools took part in the successful pre-order and delivery service.
A big thank you to Mazer Group for allowing the club to use their shop, Valley Meat Packers for helping with the burgers, Co-op, Timberland and Tom Yaschysyn for helping with the buns, condiments and drinks. Various other businesses helped with advertising including Subway, Shivers, Flaman, Star and Times and of course Valley Biz. The Kinsmen Club donated the use of the BBQ's and a member Sean Baskier got us rolling. Swan Valley Stampeders helped out with deliveries. Cargail and Spruce Products were also very generous throughout the process. Thank you to the many Minitonas 4-H Beef members and family who spent many hours organizing and facilitating this BBQ and to the Swan Valley Community for supporting it.
In the end $6,500 was raised with all the profits being donated to the Mangin Family in order to help with medical costs. If you would like to help the Mangin family please visit the Go Fund Me website created to raise money for them at https://www.gofundme.com/joe-jen-our-cancer-journey-2uyd2735.