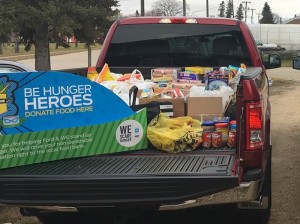 Submitted by:
Rebecca Popoff |
On Thursday, November 3, 2016 Formo Motors delivered 2 trucks loaded with non-perishable food items to the food bank!
It was a grand total of 2138 pounds!
Click any picture for a larger version.
Thank you everyone for your generous donations this year this will help fill up the Christmas Food Hampers this year at Swan Valley Food Bank. Minitonas Middle School (928 pounds) and Birch River School (200 pounds) really helped us fill up our second truck. Thank you for all your hard work!!
And Y Not Johnny's for your awesome support donating hamburgers for our BBQ (which were delicious!), Pizza Parties for the lucky class at both schools and your generous donation of food items to help fill our truck. Ford We HQ this could not happen without your support!