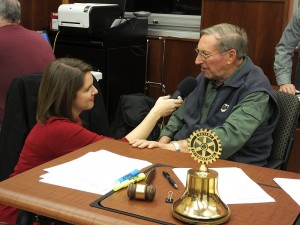 ValleyBiz Story |
"We're a small club, but we're a mighty club." said Rotarian Dave Theunissen while reflecting on the Swan Valley Rotary Club's (SVRC) past successes.
Over the years the "small club" has raised more than $500,000 for community projects.
Click any picture for a larger version.
Looking back, the first major project for the SVRC was the original main building for the Swan Valley Historical Society at the museum. Other projects include the first handivan for the Town of Swan River, Legion Park pathways, benches and one of the outdoor gymns, Rotary Park pathways and various equipment for the personal care home and hospital. The SVRC has also contributed to other projects in the community such as the Rotary Soccer fields, Tread the Thunder bike paths, skateboard park, indoor pool, and more. In addition, the SVRC also sponsors free Sunday skating at the Swan River Centennial Arena.
With just over a dozen current members, the club continues to initiate community projects and organize the Swan Valley Rotary Radio Auction as their big annual fundraiser. The auction is broadcast on local access television and GX94 Radio.
This year's auction was held on November 3, 2016. With over $14,000 in auction proceeds and an additional $3,800 in cash donations, the club credits the success to the generous contributions from the community.
Theunissen also added that November is The Rotary Foundation Month. The Rotary Foundation helps fund humanitarian activities, from local service projects to global initiatives and is funded by voluntary contributions by the Rotarians themselves and other friends of Rotary. In one the primary initiatives Rotary, along with other partners, has reduced polio cases by 99.9 percent worldwide.