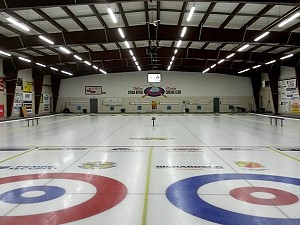 ValleyBiz Story |
Curling Canada has announced that Canada's best four-player mixed curling teams will be headed to the Swan Valley in Manitoba for the 2018 Canadian Mixed Curling Championship.

Photo Source: swanrivercurling.ca
The Championship will be played at the Swan River Curling Club, Nov. 12-18, 2017 with the winner advancing to the 2018 World Mixed Championship.
"The Canadian Mixed Championship is a truly unique blend of competition and curling fellowship that makes it one of the really special events on the competitive calendar," said Peter Inch, Chair of Curling Canada's Board of Governors. "Swan River put together a wonderful bid for this event, and I'm anticipating that the local host committee will make the 2018 Canadian Mixed not just a great curling event, but a great social event as well."
A local announcement was formally made at the Swan River Community Centre as Curling Canada released the news on October 5, 2016.
Congratulations were extended to the bid committee from the Swan River Curling Club, Hon. Rick Wowchuk, MLA for Swan River, Town of Swan River Mayor Glen McKenzie and Kelli Riehl, Chairperson from the Swan Valley School Division.
Many expressed support for the committee and expressed great confidence that, with the support of Swan Valley businesses and community members, the event would be a tremendous success and a great opportunity to showcase the Swan Valley.
"There's a proud tradition of curling in the Swan Valley, and we couldn't be more proud or excited to welcome the Canadian Mixed Championship to our town," said Murray Mullin, Chair of the Host Committee. "I am confident that as hosts we will send the athletes, their families, officials and spectators back to their homes with fond memories of both a wonderful event and an appreciation for the beauty of the community that we live in."
This will be the 55th time the national championship will have been played and while the championship has visited Manitoba six times, Swan River has never hosted a Curling Canada Championship.
"We were more than pleased to endorse Swan River's bid to host the Canadian Mixed, and we know the Swan Valley curling community is going to be extremely supportive," said Craig Baker, Executive-Director of CurlManitoba. "I have every confidence that it's going to be a terrific event, and that Swan River will leave a lasting impression on everyone who visits."