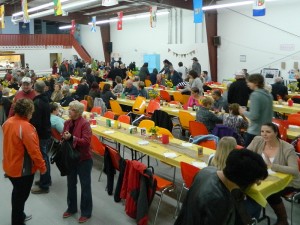 Submitted by:
Holly Urban and
Sherry Markle |
Once again, the SVAPL banquet was completely sold out. It is always nice to see the community coming out to support a great cause.

Click any picture for a larger version.
Murray Wenstob was invited to give the blessing before the meal commenced. The crowd enjoyed a most delicious meal complete with sumptuous desserts, catered by Verneece Eggie and her wonderful crew!
Guests caught their first glimpse of the SVAPL First Responders calendars, featuring the RCMP, Ambulance, and Fire personnel. These calendars will be on sale in various locations around Swan River as well.
Holly Urban's video presentation was wonderful, showcasing stories of adopted animals. These stories were graciously submitted by their owners and reminded the crowd how big of an impact these furry creatures can have on your life. The video also featured what it takes to run the shelter and keep our doors open. The main take home message was it takes PEOPLE…a network of people! Community support is something SVAPL cherishes and continues to work hard in recruiting volunteers, resourcing funds for operating costs and building the network of consistent supporters.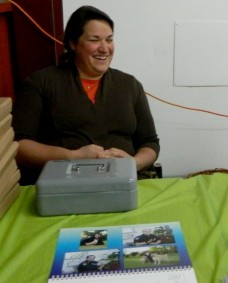 Lisa Scales was introduced to everyone as our first Shelter Manager, hired to help our Shelter Coordinator, volunteer Audrey Sercombe, run the shelter and share the workload.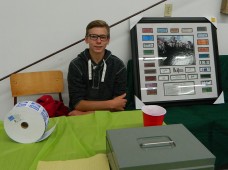 Some of the young volunteers, including Dustin and Morgan, regulars at the shelter, were also introduced.
The Chance Auction and Raffle table were a huge success, thanks to generous donations from the local businesses and individuals. The lucky winners of the Chance Auction walked away with some generous gift baskets filled with a variety of items. The Raffle featured a beautiful quilt, a large Avon gift basket full of product and a large framed Beatles picture and concert tickets. The lucky winner of the 50/50 draw was Jon Fleming; who also lucked out in the Silent Auction, walking away with a large insulated dog house, as well as 20 yards of aggregate.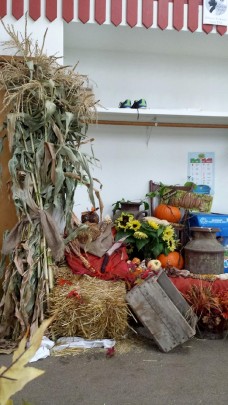 A huge thanks to all of the people who worked so hard decorating, setting up, and working at the banquet; without them the banquet would not be possible.
A big thank you to Maggie Romak and others, for sitting at Extra Foods for days selling banquet and 50/50 tickets.
Everyone's contributions never go unseen and SVAPL and the animals all thank you for another successful fundraising event.