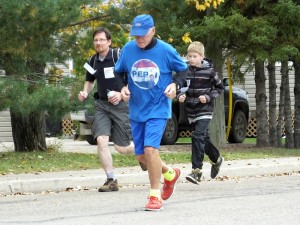 ValleyBiz Story |
Although the day started out damp and dreary, about 60 dedicated participants and volunteers gathered to take part in the Terry Fox Run on Sunday, September 18, 2016.
Just as the walk began, the rain cleared for most of the duration.
Click any picture for a larger version.
The total amount raised was $7,986 with Kay Edwards being the top fundraiser this year.
Each year a Participation award is given to a different individual who has participated for more than 5 years. Judy Holland was recognized for her 6th year of participation.