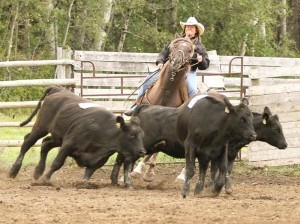 Submitted by:
Michelle Buck |
The Blue Sky Arena wrapped up their season this past weekend with a trail ride on Saturday, September 10, 2016 and a team cattle penning jackpot on Sunday, September 11, 2016.

Click any picture for a larger version.
Pictures by Carmi Hrabarchuk an Michelle Buck

Saturday's ride started and ended at the Blue Sky Arena south of Benito, MB, and approximately 30 riders took part, pausing midway for a stretch, a visit, and a trail lunch.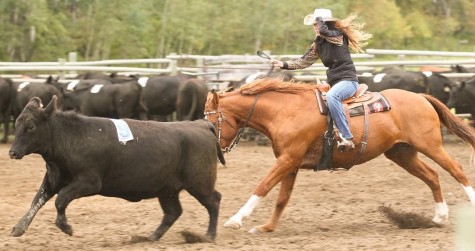 On Sunday 50 Open teams and 4 Youth teams took part in the penning jackpot. The cows weren't nearly as difficult as they were at the spring jackpot, but there was one team of "5" cows that made more than a few people comment on what nice steaks they would make. This may also be the same reason our swear jar had a distinct rattle at the end of the day.
Although the weather was on the cool side, the wind stayed away and the rain held off for all but a few minutes. Perfect riding weather! Even the spectators were happy in the bleachers with a new roof over their heads.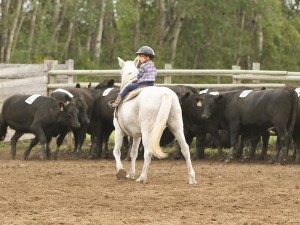 Many thanks to Buffalo Junction for keeping us all going throughout the day with hot coffee, pulled pork, and chili.
At the end of the day when the prizes were handed out, these were the winning teams:

Open A-side – 6 head:
1st – Gerald Peesker, Mark Fraser, Kim Kindiak – 1:05.67 to win the buckles!
2nd – Trevor Nichoulson, Tammy Nichoulson, Mark Fraser – 1:08.18
3rd – Glen Foster, Jodi & Andy Suchoplas – 1:20.17
4th – Sharon Foster, Erin Schullman, Carmi Hrabarchuk – 1:20.27
5th – Kimberly Parks, Lynette Lanski, Trevor Nichoulson – 1:20.99
6th – Janie Galloway, Fran Fitzpatrick, Stan Foster – 1:32.04
7th – Marsha Dudar, Kevin Boese, Stan Foster – 1:35.41
8th – Darryl Vanderschaaf, Janie Galloway, Stan Foster – 1:38.03
Open B-side – 3 head:
Teams compete on the B-side when the receive a no-time in the first go, but pen 3 cows in the second go.
1st – Linette Lanski, Morgan Buck and Tammy Nichoulson – 45.14
2nd – Linette Lanski, Kimberly Parks, Tammy Nichoulson – 46.12
Youth Class:
1st – Kaisley Hrabarchuk and Dryden Griffith with a time of 2:37.24 on 6 head
2nd – Kreece and Trey Hrabarchuk with a time of 2:55.75.
All youth competitors received a $25 Itunes gift card and the first place team also received jackets from GSPS Ltd. Their entry fees were paid by the club.
Members Only – one run:
1st – Marsha Dudar, Darryl Vanderschaaf, Jodi Suchoplas
Members only pays a cash prize to first place only, and points are accumulated towards a year end prize.
The winner of the raffle for a breast collar donated by Poplar Bluff Tack Shop was Jackie Ripa.
Special thanks go out to our grounds crew – judge, flag holders, time keepers and gate man – we couldn't do this without you.
Sponsors:
Our Gold sponsors who chose to sponsor a cow were Swan Valley Co-Op, Rough Country, and GSPS TJ Schullman.
Our Silver sponsors chose who chose to sponsor a pen were Michelle Buck Essential Oils, Lynn's Plants & Things, Dairy Queen, Formo Motors (Ford), Key Chev, Sign Here, Benito Meats, Super 8 and Rod Blosha Pioneer Seeds.
Our Bronze sponsors were Swan Valley Credit Union, Cook & Cooke, Redline Chrysler, Spruce Products Limited, Swan Valley Dental, OK Tire, Benito Foods, Benito Home Center, Schneider Insurance, Swan Valley Vet Clinic, Grazier Custom Manufacturing, Northern Leisure & Power Products Swan River, Hitching Post, Merv's Audiotronic and Poplar Bluff Tack Shop.
The Blue Sky Arena holds weekly team penning practices May to September at our outdoor arena ½ mile west of the junction of Highways 49 & 83. Our season has ended, but we'd love to see you next year!
See our facebook page at www.facebook/BlueSkyArena for more details or call 204-539-2345 and listen to the message to see what's coming up next.