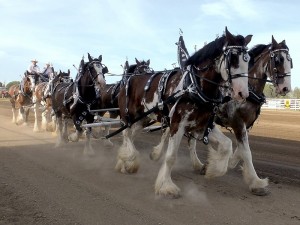 ValleyBiz Story |
The grandstands at the Northwest Roundup were filled and the crowd was ready for 3 days of rodeo excitement. Cowboy events included Team Roping, Steer Wrestling, Tie Down Roping, Bareback and Saddle Bronc, Bull Riding and Barrel Racing.
Click any picture for a larger version.
As a special feature Harvey McFarlane, of Sanguine Clydesdales delighted the crowd with his 8 Horse Hitch Driving Demonstration. Spectators were also treated to the time honored, country fair tradition of Heavy Horse pull.
Below are some highlights from the events.