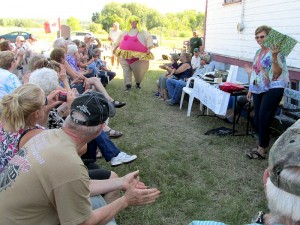 Submitted by:
Debbie (Bell) Soloway |
It was great to see a wonderful group of people enjoying each other's company and sharing stories and lots of laughter.

Click any picture for a larger version.
On Sunday July 24, 2016 the place to experience this type of enjoyment was at the tiny village of Renwer, MB, as they celebrated the annual Renwer-Fisher's Siding old fashioned picnic. What is Fisher's Siding you may ask! Well back when there were one room country schools, this was the name of Renwer's school and the old school still stands there today.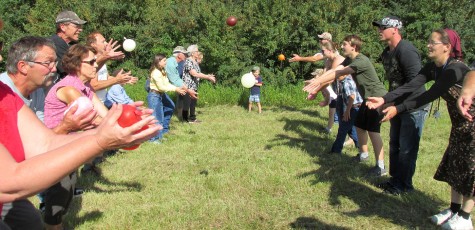 On this day about 75 guests came from as far as Nanaimo, BC to Winnipeg, MB and included many towns, cities and provinces in between. Lawn chairs were set up and the visiting started, followed by some old fashioned races and games.

Laughter began as participants of all ages teamed up for the three legged race, a relay race of filling the bucket with water using and old tin can with many holes in it and the all time favorite water balloon toss. Needless to say, there were some wet sport enthusiasts, but they reported it felt great since it was a hot sunny afternoon.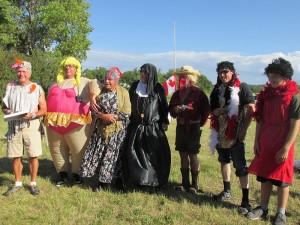 This year we had the special event called "The Miss Renwer Princess Pageant" and it was time for the crown to be passed onto the next Miss Renwer Princess. Now in a small place like Renwer (with only 4 street lights) it would be quite hard to find one beauty queen participant.
But on this remarkable day, seven gorgeous beauties were willing to show off their unique talent and strive to win the crown, after all this honor would be a once in a life time opportunity. As the beauties sauntered down our lush green runway, strutting their stuff and trying to get the crowds approval to earn the shiny silver crown, you could hear the cheers and laughter as the crowd watched with amazement. These beauties were not just any ordinary run of the mill gals, they were graceful, distinguished, true to their culture and some were pretty hot mama's. The crowd were the judges and it took several attempts to finally select their new Princess and it gives me great pleasure to announce that Miss Ukraine the one and only "Miss Waltina is our winner of this years Miss Renwer Princess Pageant 2016".

Now that we all had sore stomachs from laughing along with these seven brave, blindsided men it was time to share in the delicious potluck supper. The food was blessed and it was wonderful, such a variety of salads and desserts, all the fresh vegetables and fruit from family gardens. While our supper settled the draws for the silent auction prizes were made and congratulations to Ollie Koutecky the 50/50 winner.
Just like back in the day, the Renwer Old Fashioned fun continued as the car trucks were opened and out came the musical instruments.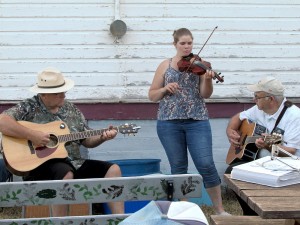 Heartfelt thanks to Morgan Cryderman (fiddle), George Woodley (guitar) and Blaine Dushanek from Red Deer, AB. (guitar) for entertaining us for the evening.
The music was so good that Mary Nash was the first to attempt dancing on our uneven dance floor of green.
Nick Lapsiuk also played a few tunes on the fiddle, what a great inspiration to have so many role models in our lives.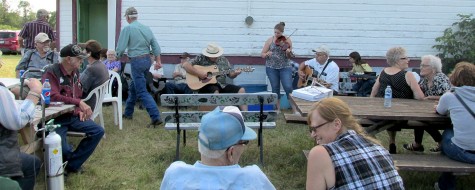 Hats off to our Renwer connections, to the princesses and to everyone that took the time to attend our celebration and made it possible; to those that couldn't make it we truly missed you, we also gave honorable mentions by naming loved ones that have gone on before us. We look forward to seeing everyone again next year on Sunday July 23rd/2017, so bring your family and tell a friend, Renwer has Old Fashioned Fun.