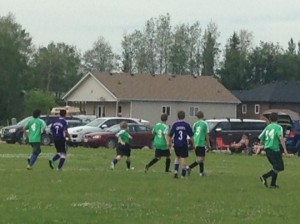 Submitted by:
Tracy Maksymchuk |
Parkland Boys U13 team hosted Team Norman for two games on Sunday, July 10, 2016 The 1st game ended in a 1-1 tie with Austin Terry scoring the only goal for Parkland.

Click any picture for a larger version.

This led to a 5 player shootout to decide the game, with Norman outscoring Parkland 2-1 to get the victory. Landon Brown was Parkland's lone scorer in the shootout.
Game 2 saw more of the same with goal keepers and defence dominating. The 0-0 score after regulation time meant that once again it would be decided with a shootout. This time Parkland outscored Norman 3-2 to take the victory with Parkland goals from Austyn Roos, Kai Pierrepont, and Jayde Strilaeff.

Also playing Sunday were the Parkland U13 girls against the Parkland 11U boys. This game ended in a 2-2 tie, with both girls' goals coming from Olive Jonasson, while Jackson Delaurier scored both of the boys' goals. Also ending in a shootout, the boys outscored the girls 3-1 to take the victory. Shootout points came from Jackson Delaurier, Wyatt Rose, and Jack Mullin, while Tyra Delaurier scored for the girls.
Both U13 teams are preparing for action in the upcoming Power Smart Manitoba Summer Games August 10-13 in Steinbach. They will also be participating in a lead-up Manitoba Soccer Association Regional Soccer Festival in Portage la Prairie July 23 & 24th. The Parkland U11 boys, as well as the Parkland U11 girls, joined forces to enter a team to compete in the Portage festival as well.