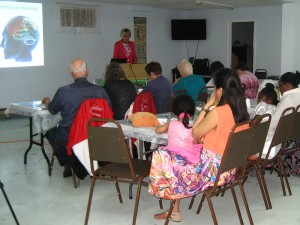 Submitted by:
David Ogram |
On June 25, 2016 approximately 20 people gathered at the Swan River Seventh-day Adventist Church to participate in a Stress Without Distress seminar presented by Glenda Nischuk from Yorkton, Saskatchewan.
Click any picture for a larger version.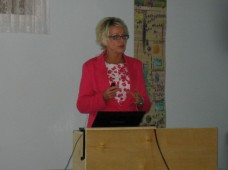 Glenda, a Registered Nutritional Consulting Practitioner, and owner of the Better Living Nutrition Centre, discussed various ways of dealing with stress in our day to day lives, such as avoiding causes of stress where possible, removing some of the things that cause stress and finding healthy ways to adapt to some of the stressors that we can't avoid.
She explained that stress often comes in one of four forms, physical stress, emotional/social stress, mental stress and spiritual stress.
Proper nutrition, being content and thankful for our many blessings, having a good laugh, getting adequate sleep, spending some quiet time in nature and putting our trust in God, can all be very beneficial in helping to reduce the amount of stress that we often experience.