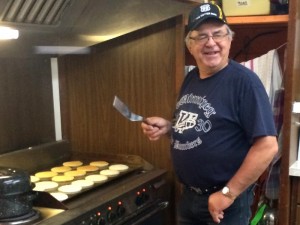 Submitted by:
Rose Kovachik
The Father's Day Brunch was held at the Cowan Community Centre on Sunday, June 19, 2016.
The weather was bright and sunny and so were the smiles of the participants that attended this function.
Pictures submitted by Rita Cryderman.
Click any picture for a larger version.

It was also a windy day, that blew in people from all directions – such as people passing through from Dauphin, or one couple who brought their vintage truck for everyone to observe and even a few cyclists who made the healthy trek from Swan River.
All were served with a hearty array of food such as the typical pancakes and sausages but also other choices such as ham, eggs, hashbrowns, muffins and fruit.
Once again a big thank you to the volunteers that assisted during the day and helped with the required preparations. Without community spirit, volunteerism and loyal participants to support their efforts, these types of functions could not be possible.
Thanks everyone and hope you enjoyed the brunch. Come back again.