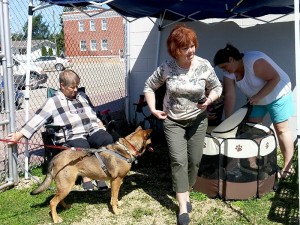 Submitted by:
Sherry Martin |
Swan Valley Animal Protection League was in attendance for the barbeque held at the Minitonas Community Store on June 18, 2016. The proceeds from the lunch will be donated to SVAPL in support of the shelter.
Click any picture for a larger version.
Rocky, one of the dogs adopted from the shelter, stopped by for a visit. Bill Jacobson also brought Evy, a very special dog he adopted from the shelter. She waited a very long time for her perfect home with Bill.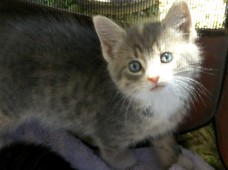 SVAPL brought a crate full of kittens and Helmut the dog, a sweet terrier corgi cross, along for the ride; much to the delight of the children that came for lunch!
The Klekta kids were especially enamoured of Helmut, and he was very grateful for all the attention they showered on him.
All of us at SVAPL would like to thank Barry and Connie Waito and their staff at the store for hosting the barbeque and donating the money raised to the shelter. Their hard work is much appreciated! Thanks to Michelle Walker and Maggie Romak for helping to get everything set up for the animals.
If you wish to donate items to SVAPL for use at the shelter, the Community Store has a list of items we need and use. Thank you to everyone who came out to visit and have lunch on a beautiful sunny day!