Submitted by:
Shirley Todosichuk |
The Swan River EMS Professionals celebrated Emergency Medical Services Week with a Fundraising BBQ on Thursday, May 26, 2016 at the Ambulance Garage in Swan River.

Pictured above: Special Olympics Manitoba Parkland Region athletes (left) with Jarret Gingras accepting the donation for Special O from Sarah Gareau, Paramedic and EMS professionals.
All the proceeds, a whopping $1350 was donated to Special Olympics Manitoba Parkland Region Programs.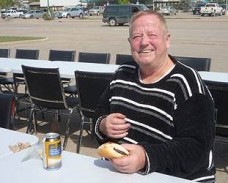 First customer of the day, Larry Taylor, not only enjoyed one delicious hamburger but came back for a second!
Along with the great burgers, the EMS staff also had Emergency Response Information Kits, Safety Coloring Books for children and Hidden Hugs packages available to the public.
A very big thank you to all of the volunteers, Hospital Maintenance Staff and EMS Staff and sponsors: Swan River Kinsmen Club, Valley Meat Packers, Swan Valley COOP, Extra Foods, Swan/The Pas Refrigeration and Qwik Stop.
Thank You Swan River EMS for the life-saving work you do on a daily basis and for the wonderful donation!