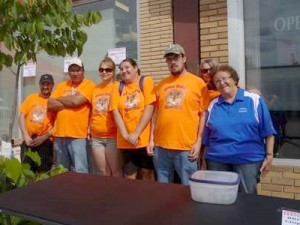 Submitted by:
Shirley Todosichuk |
Special Olympics Manitoba Parkland Region held their 2nd Annual BBQ Hamburger Fundraiser at Home Hardware in Swan River on Wednesday, June 8, 2016 celebrating Special Olympics Manitoba Awareness Week.
They had great community support making $1500 with over 400 burger combos sold.
The Swan River Lions Club have always been great supporters of Special O and once again volunteered to grill up the burgers to help out the athletes.
Swan River Lions Club members were grilling up burgers at the back of Home Hardware with the newly acquired Super Grill donated by the Bowsman and District Lions Club. The big grill easily handled all of the pre-orders and local foot traffic and the volunteers filling the pre-orders were kept hopping!
Customers were able to enjoy their meal and have a visit in the seating area behind Home Hardware.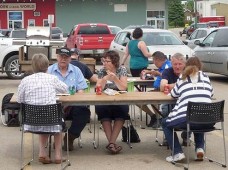 A very BIG THANK you to our sponsors: Home Hardware, Swan Valley COOP, Extra Foods, BeeGees, A&W, and the Swan River Lions Club for BBQing, the Bowman Lions Club for the use of their Super Grill, SVSD, all of the volunteers and to all who purchased burgers to support our Athletes.
Special Olympics Parkland Region is very thankful for all of the support of local businesses, organizations, volunteers and individuals who assist our athletes year round. As a non-profit, we are constantly fundraising for competition travel and appreciate the support.
The Parkland Region is also very excited to have expanded beyond the Valley parameters to Russell, Dauphin and Winnipegosis. Our Parkland Special Olympic Multi-Medalist, Darren Boryskavich from Russell; 30 gold, 18 sliver, 7 bronze and 2 Order of Excellence Medals in snowshoeing, floor hockey, track & field, curling and bowling has always been a part of our Cobra's Bowling Team and now has 6 new team-mates to compete with. Dauphin and Winnipegosis have a total of 17 athletes in their floor hockey program, who have just completed their first year in the sport. Our fundraising campaigns will now include local and regional events.
There are many events planned around the province to celebrate Special Olympics Manitoba Awareness Week and the Accept WITH NO Exception campaign. 63 Liquor Mart stores in Manitoba will begin an Air Miles Campaign on June 12th. On June 13th, Global TV will be airing interviews with Special Olympic Athletes and it is a Day at the Legislature, with a media conference and the Special Olympics Manitoba Flag will be raised at City Hall. Monday is also the Law Enforcement Torch run through Winnipeg. There are also a number of Torch Runs scheduled throughout the week and on Friday, a Provincial Games Announcement is planned in Brandon. What a great way to end a Special Olympic Awareness Week!