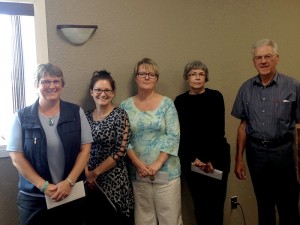 Submitted by:
Carla Dixon |
The Association for Community Living – Swan River held their 55th Annual General Meeting at the Westwood Inn on Tuesday, June 07, 2016.

Click any picture for a larger version.
Approximately fifty-five people enjoyed the luncheon which was catered by the Westwood Inn at 12 PM with the meeting beginning at 1 PM.
Representatives from the Town of Swan River, Municipality of Swan Valley West, Lions Club of Swan River and Special Olympics were in attendance and offered words of support and encouragement. MLA Rick Wowchuk was unable to attend but forwarded greetings.
ACL Board President John Christensen spoke on the accomplishments and highlights of the past year and looks forward to reaching our goals for the upcoming year.
Seven staff were recognized with "Years of Service" – Brenda Fisher, Baraby Kohut, Myrna Petterson, Rebecca Wionzek and Corinna Wood for 15 years of service, Valerie Fortin for 10 years and Jeanneau Blazenko for 5 years.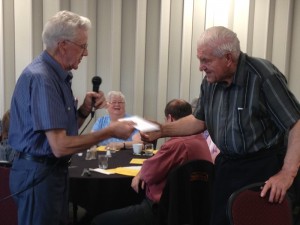 Ray Lepholtz, retiring Board Member, was honored for his 25 years of volunteer service on the ACL Board of Directors.
Lorna Chartrand was the lucky door prize winner of the $25.00 Gift Certificate. Thanks to Lynn's Plants and Things of Benito for donating the door prize!!
ACL would like to extend their appreciation to everyone that attended.