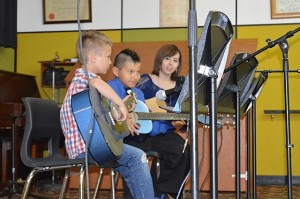 Submitted by:
Donna Burghart |
The year has come to an end for the BAM fiddle & guitar program at Bowsman School and it was celebrated with a lovely concert at the Bowsman Legion Hall.
Above: Hayden Hamilton (Grade 3) & Comrie Quill(Grade 4) showcase their skills on guitar.
Lyneta Grenier from Hudson Bay, SK was this years instructor. The Bowsman School PAC is pleased to be able to bring this program to the students at Bowsman School as it was evident that music is an important part of their education. The program is offered to students in grades 1-8, they have lessons 1 day per school cycle and quickly become skilled on their instruments.
The 9th Annual BAM Spring Concert took place on May 26, 2016 and showcased the talent of the students.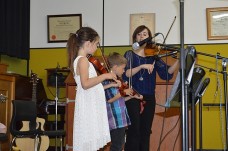 First year Fiddlers, Ashlynn Brow & Graydon Burghart, both in Grade 1, play "Hot Cross Buns" & "See The Little Monkey" with the help of instructor Miss G.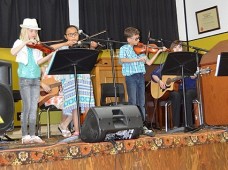 Intermediate Fiddlers, Kierstin Griffith, Kaidence Quill & Lawson Burghart have now been playing together for 5 years & showcased melody & harmonies with "Val's Dream".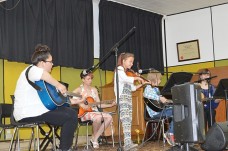 Guitar & Fiddle students got together for a beautiful rendition of "Faded Love" Here is Emma Stevens (grade 7) on guitar, Layna Burghart (grade6) on fiddle & Willem Ferriss (grade7) on guitar.
Students in grade 6-8 are able to take lesson in both instruments, both Emma & Layna play the fiddle & guitar. Thanks to JJ Burghart for helping with guitar backup as well throughout the concert. Thank you to everyone that came out to support the students! Have a great summer!!