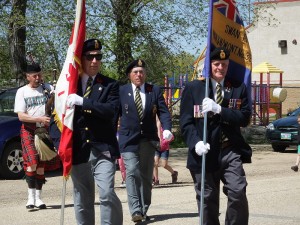 Submitted by:
Lynda Leslie |
It was a wonderful day in Minitonas to celebrate the "Friendship Tulip Garden" at the Cenotaph Square on May 18, 2016. The sun was warm, a breeze was offering a gentle coolness, and best of all, the tulips were in full bloom.
Pictures by Lynda Leslie & ValleyBiz | Click any picture for a larger version.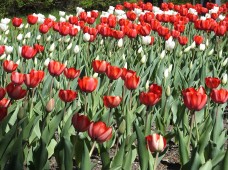 In October the Mintonas Garden Club planted 700 tulip bulbs at the Cenotaph Square in Minitonas. Every year The Netherlands sends thousands of tulips to Ottawa who then offer them to interested groups to commemorate WW II and the connection between Canada and Holland during this time of war.
We have been waiting with anticipation to see the tulips in bloom and show off the resemblance to the Canadian flag in red and white with the Maple Leaf.
At 2:00 pm on May 17, 2016 the school students were lead to the Minitonas Cenotaph Square by Legion Members carrying flags and the sound of bagpipe music provided by Doug Storey, from Grandview and a member of the Dauphin Pipe Band.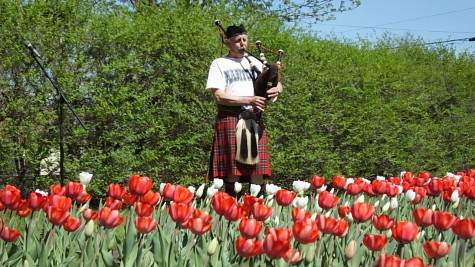 MC for the event, Miles Jones, Principal for Minitonas Early and Middle Years Schools, welcomed everyone. The Middle Years School Choir sang "Maple Leaf Forever" to commence the dedication ceremony.
Childhood recollections were shared by Addie Oberlin, who grew up in Holland during war time. It was great to have Veterans from the Valley in attendance along with many residents from the surrounding Municipalities.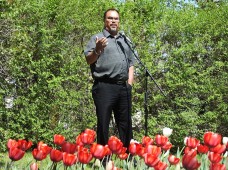 Greetings and congratulations were offered by Clint Eisner, Reeve for the Municipality of Minitonas-Bowsman, remembering those who served for our Country and a thank you to the Minitonas Garden Club for this project which will be a lasting memory.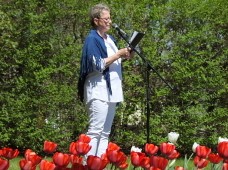 The President of the Minitonas Garden Club, Lorraine Dushanek, offered words of thank you to everyone who helped in preparation for this ceremony, along with those in attendance.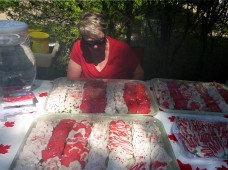 A second selection by the Minitonas Middle Years school choir concluded the program.
Everyone in attendance enjoyed decorated cookies in the shape of maple leaves and tulips made by the Garden Club Ladies along with a glass of ice tea.