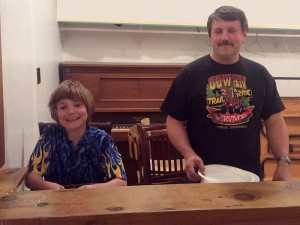 Submitted by:
Cowan Community Ladies |
On Sunday, April 24, 2016, a flock of people enjoyed a delicious supper at the Cowan Community Centre hosted by the Cowan Community Ladies.

Pictured above: Just a few of the many volunteers.
Click picture for a larger version.
Doors opened at 4:30pm and within minutes the hall was filled with people awaiting their meal anxiously. At 5:00pm the buffet table was opened with a long line forming instantly.
Appetites were quickly satisfied with a turkey and ham supper including a wide variety of homemade delights such as numerous salads, perogies, cabbage rolls, etc. Once the task of eating this hearty supper was completed, a wide selection of delicious homemade desserts was available for the choosing.
It was nice to see the hall fill with chatter, the result of friends, family and neighbors catching up on the latest happenings.
Thank you to all who supported our supper event by attending and to those who organized, donated food and helped prepare the meal. Such events in our little rural communities can not survive without all the support.
We hope to see you again.