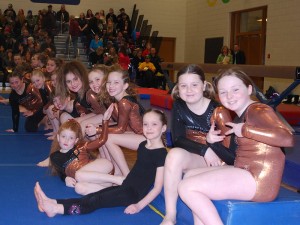 Submitted by:
Rhonda Mykula |
The Flin Flon Flinty's, Grand Plains Gymcats, and the Neepawa Novas and the Birtle Prairie View Ariels joined the Swan Valley Cheetahs for a very successful meet on Saturday, March 19, 2016.

Click any picture for a larger version.
The Showcase on Sunday March 20, 2016 was very well attended as well. We were all very entertained by all participating gymnasts, from kindergym through to provincial 2 demonstrating their many skills for the spectators.
We would like to send out a big Thank You to all the gymnasts, parents, coaches, judges,volunteers and fans for making this years Meet and Showcase a success!!