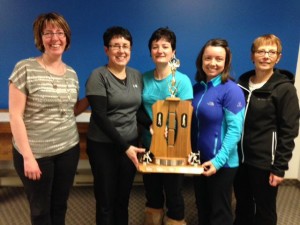 Submitted by:
(a deliriously tired & sore)
Chris Chmelowski |
There was no grey area…it was all 'black & white' for the 2016 Swan River Ladies Curling bonspiel, held this past weekend on March 18, 19 and 20, 2016.

Click any picture for a larger version.
The games began at 5:30 on Friday night and with 3 draws that evening, all 28 teams enjoyed some great games, complimentary nacho platters & visiting.
Saturday was another action-packed day with another 5 draws, an incredibly delicious supper prepared by Debbie & the crew, hilarious games put on by the entertainment committee and a night of singing and dancing thanks to DJ Ryan Boyd and Pure Sound Entertainment. The evening was well-attended by some very interesting characters, ranging from mimes to sheep, pregnant nuns, salt & pepper shakers, stick people and a judge and her convicts! Cruella & her Dalmatians, some cows and even referees with a penalty box also provided entertainment for the evening!! The Stock Car Club provided everyone with a safe ride home so we could all come back and do it again on Sunday.
Sunday brought us another 3 draws and many, many exciting games that came down the perfect placement of a final stone. There were so many "TSN Turning Points" that the crowds thickened as the day went on & the OH's, WOW's and cheers could be heard on the ice through the windows!
In the end, here's how it all played out:
| | |
| --- | --- |
| First event (Rogers): Skip Lois Mosiondz, Third Marni Zamzow, 2nd Tammy Webster and Lead Maxine Everson edged out a win over the Charlene Goodman rink…such a close game! | 2nd Event (OK Tire): Skip Marilyn Peters, 3rd Mary-Ellen Parsons, 2nd Tracey Laforce and lead Jill Eggie had a great game against team Patty Gattinger. |
| 3rd event (Pantry & Privy Niche): Skip Sheree Soura, 3rd Mildred Cotton, 2nd Andrea Adams and lead Ida Gorchynski put the Coral Zamzow rink to test in a fun game to watch. | 4th Event (Westwood Inn): skip Marge Williamson, 3rd Linda Kindrat, 2nd Laurie Plesh and Lead Sylvia Hnatiuk capped of their season with a win over team Marie Yablonski. |
Many, many thanks to our generous event sponsors: Rogers, OK Tire, Pantry & Privy Niche and the Westwood Inn, as well as to the Coop for breakfast and OK Tire for the much-needed sugar snacks! Also to the following businesses who graciously donated prizes: TD Canada Trust, Cook & Cooke Insurance, Rumour's, Adventure Outdoors, The Look, Conrad's Convenience, A&W, Renaissance, Janene Webster Massage, Cherisse Warbuton – Stella & Dot, Mike's Finishing, Redline Chrysler, Rustic Cuts, Sassy Girl, Swan Valley Pharmacy and Direct Liquidation. Big thanks also to Valley Biz for spreading the news!!
And finally, thanks to all those that traveled near & far to curl this weekend as well to the executive and volunteers for another successful bonspiel. And as always … to Barry & Pat Tall and their trusty helper Brian Harvey; we are spoiled to be curling on such fabulous ice, and your tireless hours at the rink don't go unnoticed.
Cheers to a great weekend…see you all next year at the 89th!!