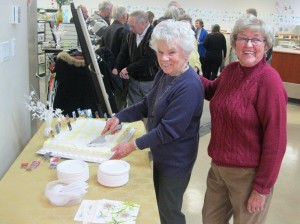 Submitted by:
Maureen Bowles |
A large crowd was in attendance on March 10, 2016 to celebrate the 50th Anniversary of the library.
Maureen Bowles gave a welcome and introduced guests.

Pictured Above: Board Members Mary Snelgrove and Angela Hinchliffe cut the Anniversary Cake. Click any picture for a larger version.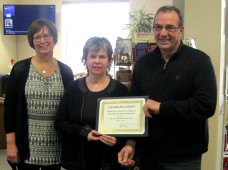 Greeting came from Councillor Lance Jacobson-Town of Swan River, Councillor Brian Burick-Municipality of Swan Valley West, Public Library Services Branch , Denise Weir, Mr. Ron Kostyshyn, MLA., and Library Chairperson Brian Hunter. Pictured Right: Maureen Bowles, Kathy Sterma receiving congratulations from Mr. Ron Kostyshyn
Librarian Kathy Sterma spoke of her memories being welcomed in the library as a child and hoped children still felt that excitement today. Everyone spoke on the value of volunteers and service clubs to the library.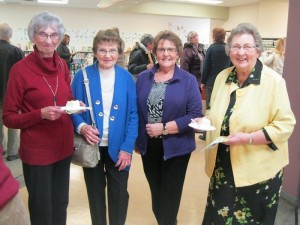 It was a special treat to have Joan Macooh, Mabel Cooke , Beth Brown and Bernice Watts former librarians in the crowd.
Joan was the first librarian in Benito

Maureen talked about two programs happening in the library currently. The expansion of the children's section and installation of a learning wall made possible by grants from the Swan Valley Foundation and the Swan Valley Credit Union. The library offers computer education for seniors every Thursday afternoon from June 2015 until April 2016. This is a free program offered through a grant from New Horizons.
Following the greetings cake and refreshments were served. Visiting and reminiscing continued as people viewed the photo albums dating back to the 1960′s.
| | |
| --- | --- |
| Pictured Above: Denise Weir, Public Libraries Consultant and Kathy Sterma, Librarian | Pictured Above: Melanie, Liam and Kailey McArthur enjoy some cake. |
Some interesting library stats are :
Average # of people in the library per day 135
Average # of computer usage by the hour per day 33
Average # of books checked out through elibraries per day 17
Average # of inter library loans received per year 648
Average # of inter library loans sent out 452
Travelling library average 70 books delivered every 3 weeks in the community
Children's programs average 50 children and parent per week