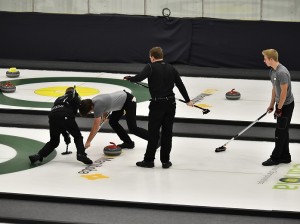 Submitted by:
Louise Watkins |
Team Watkins, a competitive Jr. Men's Curling Team based out of the Swan River Curling Club, has completed their competitive season.

Pictured above: Canola Jr. U21 Provincials in Rivers, MB.
Click any picture for a larger version.
Along with curling on Thursday evening Men's league in Swan River, they had a busy fall schedule attending several cash spiels in Stonewall, Winnipeg, and several Berth Bonspiel events in Stonewall and Boissevain. They were successful in representing the Parkland Region for the U21 Canola Junior Provincials as well as the Asham U18 Provincial Events. They also placed 1st in the East St. Paul Cash Spiel. Overall, a lot of good curling and fun memories!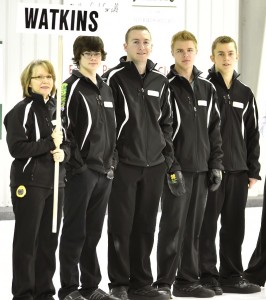 Pictured left:
Team Photo at Asham U18 Provincials in East St. Paul Curling Club.
left to right – Louise Watkins, Coach, Players Lead to Skip – Brady Harris, Braden Magura, Terron Stykalo, Carter Watkins
Our success would not be possible without the support of our families and community. We wish to thank the valued sponsors who provided financial support to our Jr. curling team during the 2015-2016 season.
They include – MNP, Swan Valley Chiropractic Centre – Dr. Neal Watkins, Anderson Cattle Co., Spruce Products Ltd., Swan Valley Consumer's Co-op, Swan Valley Community Centre, Swan Valley Dental, Nykolaishen Farm Equipment Ltd., Swan Valley Credit Union, and Paul & Ruth Thevenot.