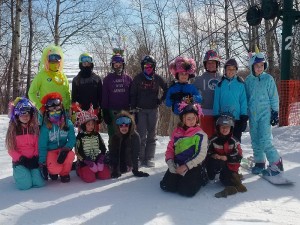 Submitted by:
Leigh Osatchuk |
The weather co-operated on Sunday March 6, 2016 for the Annual Thunderhill Ski Area Mardi Gras.
People of all ages came from all over the Valley and Saskatchewan, as far away as Inglis and Brandon, MB.
Click any picture for a larger version.
Everyone enjoyed the conditions and friendly atmosphere of Thunderhill.
The day started with an Easter Egg hunt for all ages. Eggs were hidden all over the hill for skiers and snowboarders to retrieve and claim for a prize. Another attraction for the day was the "decorate your helmet" contest. Fantastic prizes encouraged a great group of unique head gear to maneuver the slopes.
The highlight of the day were the races on Crossroads and the Main hill. These attracted skiers and snowboarders to either defend their title, or capture a new claim to fame!
When all was said and done, everyone had a fabulous time, many laughs, great visiting, and a fantastic day for Mardi Gras.
A big Thank You to Michelle Nemetchuk for all her organizing and efforts for the traditional event. Thank You to the fantastic staff at Thunderhill Ski Area. A special thanks to Rumors Skate and Snow (Kyle Machan) and Pizza Place for their donations, and Thank You to all the participants and families for their continued support.