ValleyBiz Story |
Club Sapp Gaming Centre held a celebration on Friday March 4, 2016 to mark its anniversary of one year in business. The gaming centre was packed throughout the day with draws and snacks provided to mark the special occasion.
Click any picture for a larger version.
"After 1 year of operations we have a very successful business." said Chief Nelson Genaille. Chief Genaille noted that the business has also generated a lot of economic spin off for the community including gas, food and retail sales.
The gaming centre was credited with the creation of jobs, support of local organizations, and providing a significant economic benefit to the area.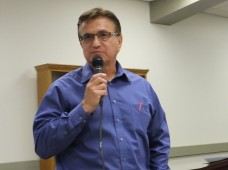 "Club Sapp was a vision and a dream that started many years ago under the leadership of Chief Genaille and his council and through the support and foresight of Swan River leadership. Club Sapp was able to come to fruition and, as you can clearly see, good things happen when people work together," commented Club Sapp General Manager, Larry Lavallee.
Several several speakers shared their thoughts on the success of past year of operations during a delicious lunch provided at the Elbert Chartrand Friendship Centre.
Club SAPP 314 began operations on February 2015 and is owned by Sapotaweyak Cree Nation. Profits from the gaming centre are used to benefit the community including assistance with medical transportation costs, future economic development and contributions to non-profit groups in the surrounding area.
The future development of the former Valley Hotel site was also mentioned. While no decisions have been made regarding what this next endeavor will be, options are being discussed and demolition of the existing building is scheduled for later this year.