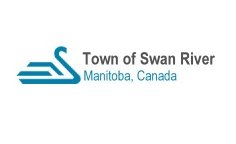 The Council of the Town of Swan River met on Tuesday, February 16th, 2016 at 7:30 pm in the Town Council Chambers with Deputy Mayor Jacobson presiding and Councillors Moriaux, Friesen, Whyte, Delaurier and Sakal present.
Mayor McKenzie was absent with permission.
1.  Call to order
2.  Adoption of Agenda
Resolution No: 2016.083
Moved By: David Moriaux
Seconded By: Jason Delaurier
RESOLVED that the Agenda for the February 16th, 2016 regular meeting of Council be received.
Carried
3.  Adoption of Minutes
Resolution No: 2016.084
Moved By: Jason Delaurier
Seconded By: David Moriaux
RESOLVED that the minutes of the February 2nd, 2016 regular meeting of Council be adopted as received.
Carried
4.  Delegations and Hearings
4.1 Delegation – SV Chamber of Commerce – Thompson Tradeshow Support – Cheque presentation
Deputy Mayor Jacobson presented Erin Brown, Executive Director of the Swan Valley Chamber of Commerce, with a $2500 cheque from the Town of Swan River to support the Swan Valley's representation at the Thompson Trade Show which is being held in Thompson, Manitoba on May 6th – 8th, 2016.
4.2 Delegation – Focus on Employment
Dan Soprovich and Marvin Copeland made a presentation to Council about Focus on Employment.  The goal of the program is to assist people with disabilities to become gainfully employed.  There are about 35 to 40 participants per year. In 2015 there were 32 participants who reside in the Town of Swan River. The budget for the program has been frozen by the Manitoba Government for the last four years, which will soon result in a debt position.  The Board is requesting a grant of $3,000 from the Town in support of their work on behalf of people with disabilities
4.3 Delegation – Hudson Bay Route Association – Jim Berscheid
Jim Bersheid, Hudson Bay Route Association Vice President, made a presentation to Council about the association and the Port of Churchill.  He advised that over 100 municipalities are members of the association which makes up approximately 75% of the total membership.  The 2016 HBRA convention is being held in Yorkton, SK on March 22nd and 23rd, 2016.  He invited Council to send a representative to attend and to say a few words.  There is a possibility that the 2017 convention will be held in Swan River.  
4.4 Public Hearing – By-Law No. 9/2016 to close a public reserve
There were no persons present to make representation for or against By-Law No. 9/2016.
 
4.5 Delegation – RCMP report by Cpl. Hannah
Cpl. Hannah advised that there were 206 incidents investigated in the month of January including 12 assaults.   Council would like to know how many arrests lead to convictions.  Cpl. Hannah said he would check if he could possibly provide a quarterly report with this information. 
5.  Correspondence
5.1 SLWCD – Future Levy Information
6.  New Business
6.1 ACL Fire Safety Inspections grant request
Resolution No: 2016.085
Moved By: Duane Whyte
Seconded By: Jason Sakal
RESOLVED that Council approve a grant in the amount of $300.00 to the Swan River Association for Community Living.
Carried
6.2 SV Veterinary Services District Board 2016 Budget
Resolution No: 2016.086
Moved By: Duane Whyte
Seconded By: Phylis Friesen
RESOLVED that the 2016 Budget for the Swan Valley Veterinary Services District Board be approved.
Carried
6.3 Swan River Splash Park Committee
Resolution No: 2016.087
Moved By: Jason Sakal
Seconded By: Phylis Friesen
RESOLVED that the Town of Swan River supports the Swan River Splash Park Committee's efforts to raise funds to build a splash park;
AND FURTHER BE IT RESOLVED that the Town of Swan River will accept donations on behalf of the Swan River Splash Park Committee.
AND FURTHER BE IT RESOLVED that the Town of Swan River's support does not extend to any financial obligation,operating or capital contributions.
David Moriaux – yes 
Duane Whyte – yes 
Glen McKenzie – absent
Jason Sakal – yes
Jason Delaurier – yes
Lance Jacobson – yes
Phylis Friesen – yes
Carried
7.  Reports
7.1 Superintendent of Works Report
Resolution No: 2016.088
Moved By: Jason Sakal
Seconded By: Phylis Friesen
RESOLVED that the Superintendent of Works report be received.
Carried
7.1.1 Asphalt Payment Project – 3rd St/12th Ave.
Resolution No: 2016.089
Moved By: Phylis Friesen
Seconded By: Jason Sakal
RESOLVED that the Superintendent of Works proceed to tender for the 3rd Street/12th Avenue Asphalt Pavement Project.
David Moriaux – no
Duane Whyte – no
Glen McKenzie – absent
Jason Sakal – no
Jason Delaurier – yes
Lance Jacobson – no
Phylis Friesen – yes
Defeated
7.1.2 Asphalt Pavement Project 6th Avenue West
Resolution No: 2016.090
Moved By: Phylis Friesen
Seconded By: Jason Sakal
RESOLVED that the Superintendent of Works proceed to tender for the 6th Avenue West Asphalt Pavement Project.
Carried
7.2 Administration Meeting Minutes
7.3 Council Members Reports
8.  By-Laws
8.1 By-Law No. 9/2016 to close a public reserve – 2nd reading
Resolution No: 2016.091
Moved By: Duane Whyte
Seconded By: Phylis Friesen
RESOLVED that By-Law No. 9/2016 being a by-law of the Town of Swan River to close a public reserve described as all that portion of Public Reserve, Plan No. 2370 DLTO contained within the limits of Parcel A on a Plan of Public Reserve to be Closed of part of the SE ¼ 28-36-27 WPM, prepared by Bayne Bruce Balchen, Manitoba Land Surveyor, of the City of Dauphin, and assigned Deposit No. 1269/2015 WLTO be closed and that Parcel A to be transferred to Kevin Penner and consolidated with title to Lot 1 Plan 2370 DLTO be read a second time.
Carried
9.  Other Resolutions
9.1 to authorize attendance at Municipal Weed Supervisors Association Seminar
Resolution No: 2016.092
Moved By: Duane Whyte
Seconded By: Phylis Friesen
RESOLVED that Ken Kokot be authorized to attend the Manitoba Weed Supervisors Assocation seminar on weed control issues being held in Carberry, Manitoba on March 16th, 2016.
Defeated
9.2 to authorize attendance at AMM Mayors, Reeves and CAOs Parkland District Meeting
Resolution No: 2016.093
Moved By: Jason Delaurier
Seconded By: David Moriaux
RESOLVED that Mayor McKenzie be authorized to attend the AMM Mayors, Reeves and CAOs Parkland District meeting being held in Brandon, MB on April 12th, 2016.
Carried
9.3 To authorize attendance at the AMM Municipal Officials Seminar
Resolution No: 2016.094
Moved By: David Moriaux
Seconded By: Jason Delaurier
RESOLVED that Mayor McKenzie, Councilor Moriaux, Councilor Sakal, Councilor Friesen and Councilor Whyte be authorized to attend the AMM Municipal Officials Seminar being held in Brandon, MB on April 13th and 14th, 2016.
Carried
9.4 To authorize attendance at the MMAA Conference
Resolution No: 2016.095
Moved By: David Moriaux
Seconded By: Jason Delaurier
RESOLVED that the CAO be authorized to attend the Manitoba Municipal Administrators Association Conference being held in Winnipeg, MB on April 25th to April 27th, 2016.
Carried
9.5 Approve Accounts
Resolution No: 2016.096
Moved By: Jason Delaurier
Seconded By: David Moriaux
RESOLVED that the accounts as follows be hereby approved for payment:
(1) General Accounts from Cheque No.18310 to No.18366 for a total of $303,487.16.
(2) Payroll Account from Cheque No. 3725 to No. 3732 for a total of $99,551.55.                   
Carried
9.6 To hire the Recreation Operations Coordinator for the Aquatic Centre
Resolution No: 2016.097
Moved By: Duane Whyte
Seconded By: Phylis Friesen
RESOLVED that Brendan Fedorchuk be hired as the Recreation Operations Coordinator for the Aquatic Centre effective March 3rd, 2016.
Carried
9.7 To hire the Recreation Operations Coordinator for the Arena and Parks
Resolution No: 2016.098
Moved By: Duane Whyte
Seconded By: Phylis Friesen
RESOLVED that Hugh Hunt be hired as the Recreation Operations Coordinator for the Arena and Parks effective March 3rd, 2016.
Carried
9.8 Municipal Office Cleaning Contract
Resolution No: 2016.099
Moved By: Jason Sakal
Seconded By: Phylis Friesen
RESOLVED that the tender submitted by Lai-Ly for the Municipal Office Cleaning Contract be accepted as per Schedule "A" attached.
Carried
9.9 To hire casual Handi Van Driver
Resolution No: 2016.100
Moved By: David Moriaux
Seconded By: Jason Delaurier
RESOLVED that Calvin Johnsson be hired as a casual Handi Transit Van Driver effective February 17th, 2016.
Carried
9.10 SV Settlement and Immigration Services Funding
Resolution No: 2016.101
Moved By: Jason Delaurier
Seconded By: David Moriaux
RESOLVED that the Council of the Town of Swan River does hereby agree to provide funding to Swan Valley Settlement and Immigrant Services Inc. in the amount of $9,456.00 for 2016/17.
Carried
9.11 To receive the January 2016 RCMP Report
Resolution No: 2016.102
Moved By: David Moriaux
Seconded By: Jason Delaurier
RESOLVED that the January 2016 RCMP report be received.
Carried
10.  In Camera
Resolution No: 2016.103
Moved By: Duane Whyte
Seconded By: Phylis Friesen
RESOLVED that, pursuant to Section 152(3) of the Municipal Act, Council go into Committee and close the meeting to the public.
Carried
11.  Out of Camera
Resolution No: 2016.104
Moved By: Duane Whyte
Seconded By: Phylis Friesen
RESOLVED that pursuant to Sections 152(4) of the Municipal Act this meeting be reopened to the public.
Carried
12.  Adjournment
Resolution No: 2016.105
Moved By: Jason Sakal
Seconded By: Phylis Friesen
RESOLVED that this regular Meeting of Council now adjourn.
Carried