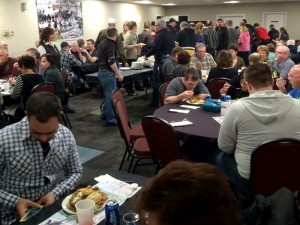 Submitted by:
Paul Deneer |
180 individuals packed the Westwood Inn on Friday, February 12, 2016 for the annual North Mountain Riders Pickerel Supper fundraiser.
Three flavours choices of pickerel was prepared for the hungry crowd.
Click any picture for a larger version.
The fundraiser included: A Chinese Auction, 50/50 and Live Auction. Marilyn Collinson was the winner of the 50/50, worth $900 dollars. As always the group was very generous with their support. The funds will go a long way in maintaining our trail system and grooming equipment.
The North Mountain Riders would like to thank their sponsors for the generous donations made, the Westwood Inn for a fabulous meal and lastly to the many individuals who came out to support our club.