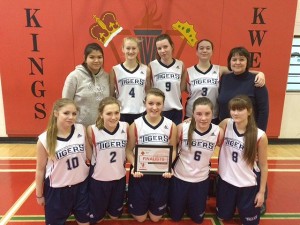 Submitted by:
Lise Fraser |
The Tigers have been successful in the last two tournaments, Dauphin Invitational on February 5 & 6, 2016 and then in Flin Flon, Haptnot Collegiate Invitational on February 12 & 13, 2016 winning second place in both tournaments.
Click any picture for a larger version.
Dauphin Tournament Feb 5 & 6, 2016
First game in the Dauphin Tournament, the Tigers played against the home team at 2:00 p.m on February 5th. This was an important game as Tigers will face Dauphin later in the month in Zone playoffs. The Tigers controlled the game from the beginning and at the half were up by 14 pts. Through good ball control on offense and the defense closing out the Dauphin shooters, the Tigers maintained the lead and won 41-27. Zoe Winters, Erica Forsyth and Brenna Klatt scored 11 pts, 10 pts and 9 pts. respectively to lead the offense. Brenna Klatt shot 75% from the free throw line. Defensively, Sisceley Konkin had 5 rebounds and Akira Lunding had 5 blocks to shut down Dauphin.
Tigers played Flin Flon Collegiate on Saturday morning and due to injuries the Tigers were down to only 8 players. Flin Flon played an aggressive man to man defense which took some time for the Tigers to figure out, but the result was a 29 – 13 win for the Tigers. Akira Lunding scored 13 pts in the game to lead the Tigers. Defensively, Brenna Klatt had 12 rebounds, Julia Arp had 5 steals and one block and Angel Mcnichol had 5 rebounds and one block to down the Flin Flon offense.
The Tigers played Thompson in the Finals and although few in number played with a lot of heart against a strong team. Defensively, Akira Lunding led the way with 16 rebounds, 3 steals and 3 blocks. Brenna Klatt had 7 pts. and 11 rebounds, followed by Julia Arp with 8 rebounds and 6 steals. Erica Forsyth scored a team high of 8 pts. Thompson won the Final game 41-29.
Flin Flon Tournament Feb 12 & 13, 2016
The Tigers played Creighton Collegiate on Feb 12th for their first game of the tournament.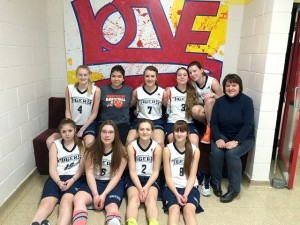 The Tigers won 48 – 19 with a strong team effort offensively and defensively.
Brittany Vandepoele scored 15 points, 6 rebounds, 1 steal and 1 block.
Akira Lunding scored 12 pts, 7 rebounds and had 11 steals.
Alison Rowe scored 10 pts and 2 steals. Brenna Klatt scored 9 pts and had 4 rebounds and 1 block.
Next game was against the home team, Flin Flon. The Tigers played aggressive defense resulting in only 18 points for the home team, while scoring 41 points of their own. In a well- rounded attack, seven players scored in the game against Flin Flon. Brittany Vandepoele scored 11 pts., Alison Rowe and Zoe Winters scored 10 pts. Winters shot 100% from the free throw line. Akira Lunding scored 7 pts and blocked 9 shots. Defensively, Julia Arp and Sydney Fleming contributed with 3 rebounds and 5 steals each. Angel McNichol had 2 assists and 3 rebounds.
The Tigers played against Thompson in the A Finals for the second weekend in a row with a similar result. Brenna Klatt scored 9 pts and hauled down 6 rebounds. Alison Rowe scored 7 pts. and Brittany Vandepoele scored 6 pts. to leave the Tigers offense. Defensively, Julia Arp and Sydney Fleming had 4 rebounds apiece. Angel McNichol stole the ball 4 times to limit the Thompson offense.
The Tigers play on February 17, 2016 in Swan River against Dauphin at 5:30 for their first Zone playoff game. Come out to cheer the team on.