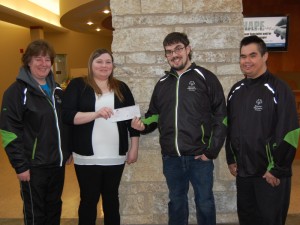 Submitted by:
Shirley Todosichuk |
Special Olympics Manitoba Parkland Region was very excited to receive a $2000 donation from the Swan Valley Credit Union's Jeans Day Charity.

Accepting the cheque for Special Olympics are Coach June Mosiondz and athletes Ricky Zimmer and Andy Brass. Presenting the cheque is Melissa Sollis, Swan Valley Credit Union Member Services Representative and Jeans Day Committee Member. Click picture for a larger version.
The generous donation will be used to purchase sports equipment and to help offset transportation costs to provincial competitions.