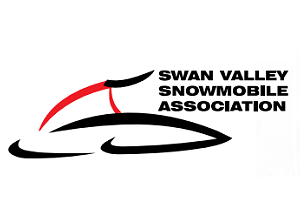 Swan Valley
Snowmobile Association
9th Annual Vintage Ride
February 27, 2016
at the Swan Valley Museum
The day will kick-off with a pancake breakfast for $6
9:00 – 11:30 am hosted by the Bowsman and District Lions.
All are welcome whether you are entering the Vintage Ride or just coming to check out some "old beaters" and reminisce about the good ol' days.
Registration for the ride is $10 and will be from 10:00 – 12:00 pm. Machines will be from 1995 and older, a meal ticket will be included with your registration.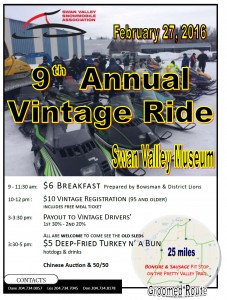 The ride will consist of 25 miles of groomed trail along the Swan Valley Snowmobile Association's Pretty Valley Trail. There will be a bonfire and sausage pit stop along the way to warm-up and tune-up those old sleds.
The ride will wrap up back at the Swan Valley Museum at about 3:00 pm when prizes will be announced for 1st – 30%, and 2nd – 20% payout. There will also be 50/50 and Chinese Auction items available throughout the day.

The meal will be from 3:30 – 5:00 pm, prepared by the Swan Valley Snowmobile Association's members. All are invited to come for deep-fried turkey on a bun, hot dogs and drinks. Registered riders will have their meal included, otherwise the meal will be $5.
For any further information you can contact:
Dave: 204-734-0057
Les: 204-734-7045
Don: 204-734-8178
Also, check out our website at www.svsaa.ca or on facebook at Swan Valley Snowmobile Club.