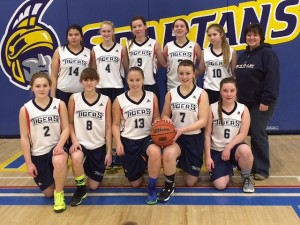 Submitted by:
Lise Fraser |
The Swan Valley JV Girls Basketball team traveled to The Pas on January 30, 2016 to take part in the MBCI Invitational Basketball Tournament.

Click picture for a larger version.

In the first game on Saturday morning, the Tigers played Frontier Collegiate Institute. The Tigers played a stingy man to man defence against their opponent, limiting Frontier Collegiate to only 16 points while scoring 57 of their own. Brenna Klatt scored 11 pts., Akira Lunding and Erica Forsyth scored 10 pts apiece and Brittany Vandepoele added 9 pts to pace the Tigers offence. Defensive players of the game were Julia Arp and Angel McNichol as they forced the FCI guards to turn over the ball repeatedly.
Next opponent for the Tigers was the home team, MBCI Spartans. The Tigers controlled the game from beginning to end. Every player on the Tigers team scored in a landslide win of 82-25 over the home team. The Spartans couldn't stop the Tigers in the paint. Sisceley Konkin dominated with her post moves, scoring 15 pts. Brenna Klatt, Akira Lunding and Brittany Vandepoele controlled the boards scoring 11, 10 and 9 points respectively. Zoe Winters and Erica Forsyth sank 12 points each from the field. Defensive players of the game were Angel McNichol and Alison Rowe as they forced turnovers with their strong defensive style. Sydney Fleming provided 6 defensive rebounds keeping the Spartans off the scoreboard.
In the final game of the tournament the Tigers played Creighton Collegiate Institute. In a well balanced attack with seven players scoring 6 or more points the Tigers won 61-21. Erica Forsyth scored a game high of 15 points following by Konkin, Vandepoele and Klatt with 8 pts apiece. Julia Arp stole the ball three times resulting in three baskets. Sydney Fleming continued to add to her defensive stats with five rebounds.
The SVRSS JV Girls Basketball team are now 8-1 for the season. Next tournament for the Tigers will be the Dauphin Invitational on February 5 and 6. The Tigers' first game will be against the home team on February 5th.