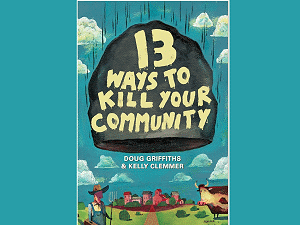 Submitted by:
Heather Nielsen |
PRESENTATION:
13 Ways to Kill Your Community
Thurs. February 25, 2016
7:00 pm
War Veterans
Community Hall
119 6th Ave N.
Swan River
Follow the advice in reverse and you'll have a thriving, successful community.
Join us for a FREE engaging presentation by Chris Fields, business partner of Doug Griffiths in 13 Ways Inc. Chris Fields is a brand builder leveraging over 20 years of award winning marketing, communications, and economic development experience.
Over the last five years Chris has worked with 35 communities and 12 community development organizations (representing 45 communities) in B.C, Alberta and Ontario. Chris' educational and work experience represents a convergence of municipal governance, urban planning, economic development and brand management. Chris has a serious message … dare to be different and reach your highest aspiration or join the burgeoning ranks of the unnoticed.
Brought to you by Swan Valley RISE in partnership with Swan Valley Chamber of Commerce and Elbert Chartrand Friendship Centre.