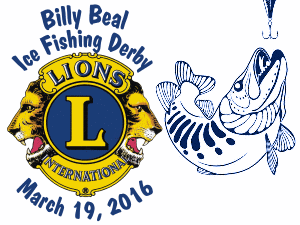 Submitted by:
Alvin Karton |
19th Annual
Billy Beal Classic
Ice Fishing Derby
March 19, 2016
Whitefish Lake
Contestants will be fishing for a first place prize of $10,000.
There are many other valuable prizes to be won.
Entry fee:
Adult advance $40, walk on $50
Junior advance $30, walk on $40
Extra hole $30
New this year contestants with their regular entry can purchase an Extra Hole ticket for $30. With the purchase of an extra hole ticket you will be allowed to pick you holes at 11:30 am all other contestants will pick their hole at 12:00 pm
Tickets are available from any Lions member, Cook & Cooke or purchase by phone 204-734-0102

Click here for the poster and more information.
Click here for the brochure.