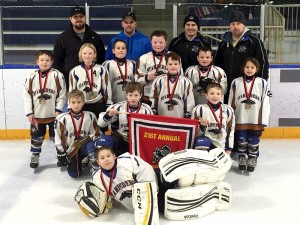 Submitted by:
Angela Mullin
Swan Valley Novice Broncos skated to the A side Championship undefeated at the 21st annual Novice Hockey Tournament A&W/Funky Threadz Cup hosted by The Pas from Jan 8-10, 2015.

Click any picture for a larger version.

The Broncos 1st game on Friday was played in the GLMC, home of the OCN Blizzard. The Broncos took on the Thompson Wild and won convincingly 7-2.
Saturday morning in the RHJA rink Broncos met the Flin Flon Fireman. Once again the Broncos took the lead and did not look back, winning 7-1.
Saturday afternoon the Broncos looking to finish 1st in their pool went for the win against the OCN Blizzards. Taking on OCN in the GLMC was a daunting task but the Broncos stayed strong with great passing and a huge effort by all the players, came out 8-2 winners. When all the games were done on Saturday, the Broncos were 2nd out of 16 teams. Only the Thompson Canadiens were ahead of them.
Sunday at 11:30 in the RHJA the A Final was set to play. The Broncos relied on a strong offence, great goal tending and a confident defence to come out triumphant over the Canadiens 3-2. The Broncos brought home the A side banner with a ton of pride for going undefeated!
The parents & players would like to give a big thank you to the coaching staff .. Sean Eggie, Jordon Rooks, Tyler Mullin & Daniel Martyniuk for all the great memories from this weekend.