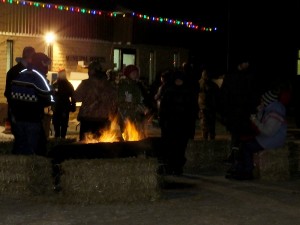 ValleyBiz Story |
The Municipality of Minitonas-Bowsman hosted an old fashioned, downtown Christmas party in Minitonas on the evening of Friday, December 18, 2015.
Neighbors gathered around the cozy fire to catch up and wish each other a Merry Christmas.
Click any picture for a larger version.

Hot dogs and hot chocolate were provided and two teams of horses were available to take people on sleigh rides around the town.
The evening air was crisp, but the warmth of the fire and friendly conversation created an inviting atmosphere.