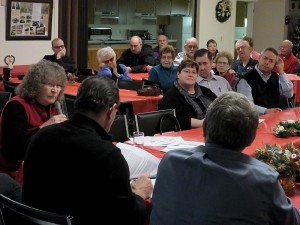 ValleyBiz Story |
On Friday, December 18, 2015 St. Andrews United Church hosted an information meeting to assess the interest and discuss the feasibility of sponsoring refugee families from Syria.

Click any picture for a larger version.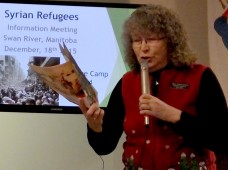 Reverend Jenny Sprong, minister of St. Andrews United Church, welcomed approximately 45 attendees including Swan River MLA Ron Kostyshyn, Town of Swan River Mayor Glen McKenzie, Settlement Services Coordinator Gillian McGrath, members from various churches and community organizations as well as other interested community members.
The meeting was held in response to the commitment by the Canadian government to settle 25,000 Syrian refugees by the end of February, 2016.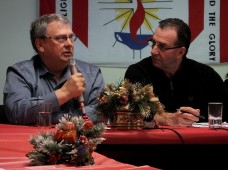 Minister Kostyshyn provided additional information regarding the process of sponsoring refugees from Syria while Mayor McKenzie shared information discussed during a teleconference on December 17, 2015 with Mayors and Reeves across Manitoba as well as officials from Canada Immigration and the Government of Manitoba.
Three types of sponsorship were identified; Federal Government Sponsorship, Private Sponsorship and Blended Sponsorship. Upon arrival in Canada, all refugees will be granted permanent resident status and as such will be entitled to the same basic healthcare as all Canadians. They will also receive 1 year of extended health benefits through the Interim Federal Health Program. Immediate priorities include translation services, housing, clothing, employment and school enrollment.
Community groups in the Swan Valley looking to sponsor Syrian refugees will need to apply as a Private Sponsor. The sponsoring group or organization will be required to provide financial, social and emotional support to the refugee family for a period of one year. Individuals at the meeting who have been involved as sponsors in the past suggested the community should be prepared to continue to provide support beyond one year as the refugees may require more time to establish long term employment and become self sufficient.
Some concerns had been raised prior to the meeting regarding potential political, cultural and religious differences, however during the meeting most in attendance seemed supportive and open to welcoming refugees into the Swan Valley.

Tyson Stadnyk, a Swan Valley resident who worked in Syria for four years, commented that while in Syria he lived with people of many different religions and felt welcome in any home, regardless of their denomination. He describe those he met as very welcoming, wonderful people. Stadnyk has been in contact with several families who are fleeing the war torn country. "These people really do need help." he said, "These people have had to walk away from everything they've owned."
A group of individuals interested in forming a committee met following the meeting to further explore the possibility of sponsoring Syrian Refugees. A committee of 10 people has now been formed and the next steps include additional research into the requirements, completing and submitting applications, fundraising and developing an implementation plan. Individuals and organizations who would like to be involved with the committee can contact Reverend Jenny Sprong at (204) 734-3248.