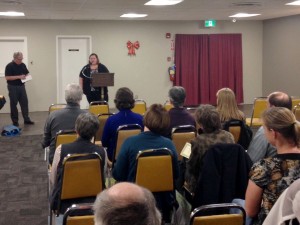 Submitted by:
Vivian Rooks
On Thursday, December 3, 2015 the Community Foundation of Swan Valley held their annual meeting and granting night at the Westwood Inn at 7:00 P.M.

Click any picture for a larger version.
Mark Provencher, of BMP Chartered Accounts, was present and summarized the financial position of the foundation. In his summation he explained that our foundation has now reached over 2 million in endowment funds.
Certificates were presented to individuals who invested $1000 or more into the Heritage Club over the last year.
One of the most exciting parts of the evening was the presentation of cheques from the foundation to recipients of grants for projects for their organization.
The following organizations received contributions to projects for their community organization in the Swan Valley:
Swan River Junior Curling Club – Install Cameras and T.V.s
Swan River Communities in Bloom – 3 Planters
Harley House Committee- Replace Windows
Swan Valley Communities that Care – Youth Activities
Northwest Regional Library – Learning Walls
Heyes Child Care Centre – Equipment for Day Care
Minitonas School Parent Advisory Council – Playground Equipment
Sunflower Early Learnng Centre – Intercom System
Kenville Community Club – Booth Upgrades
Swan River Agricultural Society – Ground Improvements
Ecole Swan River South School PAC – Hot Dog Cooker & Grill Cart
Canadian Cancer Society – MB Division – Swan Valley Radon Awareness Project
Youth Voice – SVRSS – Breakfast Program – Fridge and Microwave
Elbert Chartrand Friendship Centre SUCCEED Connections Program – Range
Swan River Day Care Centre – Play Area Rugs
Swan River & District Community Resource Council – Dura Tile Base for Gym Equipment in park
Benito School PAC – Playground equipment
Canadian Parents for French (S.R. Chapter) – Reading Program & French Cultural Performance
Swan Valley Gymnastics – Gymnastics Equipment
Tread the Thunder Bike Club – Brush Trimmer and Blade
Thunderhill Ski Club – Helmets
As well, designated grants were given to:
Swan Valley Air Cadets from the Lloyd Spicer Fund
Swan Valley Animal Protection League from the Jim & Marie Hogg Fund
Swan Valley Fine Arts Festival Committee for a child to go to music camp from the Lloyd & Betty Bertram Fund
Swan Valley Historical Museum from their own fund as well as the Tony & Vincent Gulash Fund
Swan River Figure Skating Club from the Carissa Kowal Fund
The Chemo Dept at the Swan River Hospital from the Jean Donaldson Fund
Youth in Philanthropy from their Youth in Philanthropy fund.
A sincere thank you to all donors who recognize the promise in the future of our community by donating to our Community Foundation of Swan Valley.